I went to Home Depot the other day to look at paint. I ended up grabbing a can of Rustoleum Paint & Primer in "metallic dark steel". When I got back I started looking at the paint and decided that I really don't like the metallic fleck in the paint. I've never seen a sword blade with metallic fleck in it so considering I'm trying to make this look realistic I don't think I really want it on mine. In the meantime, and at the suggestion of my wife, I checked the basement and found a can of Rustoleum primer and a can of Rustoleum clear coat sealer! Yay! So now I have the sword primed and I just have to find some time to get back to Home Depot to exchange the paint I got for some other color. And since I found the primer and I don't want the metallic fleck it should be less expensive than the paint I originally got, so that's cool.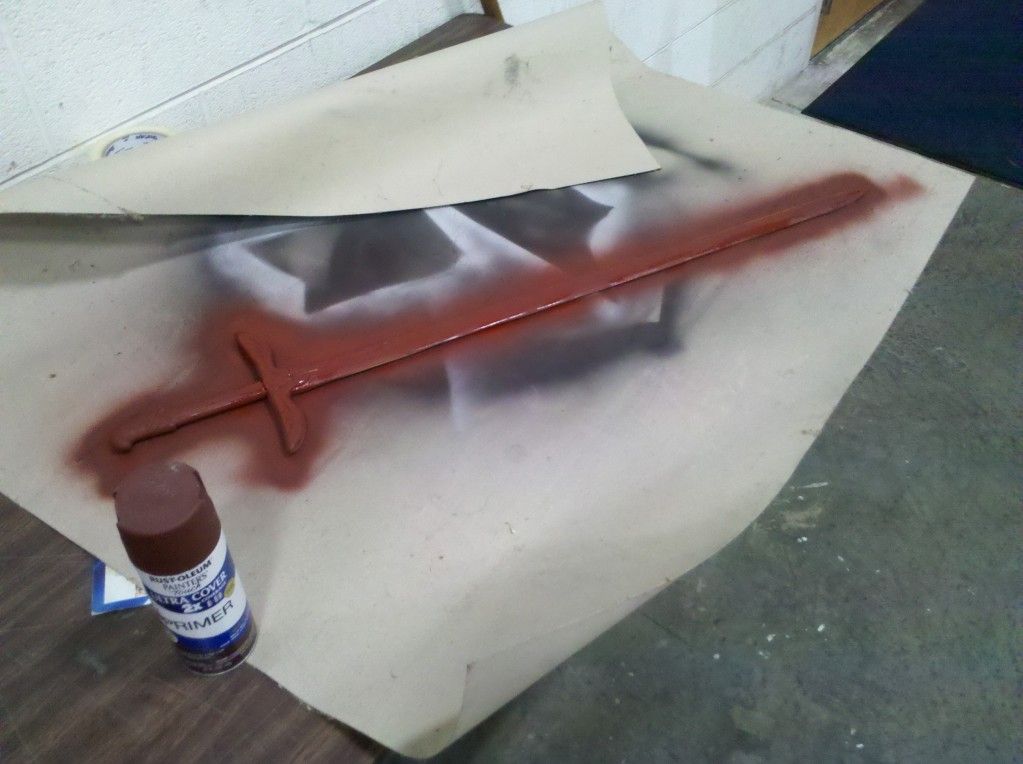 The primer that I found is some sort of maroon-ish color. It might make the end result appear darker, but I think it will still work. It better work. I guess I could have tested it on another piece of wood but I got excited.
So just a reminder of where I stand on all of the items on the "To-Do List":
1. Thin out the blade and do basic shaping.
2. Add detail (carve the crossguard and pommel detail, and minor blade details).
3. Finish detail on blade and draw-file the bevelled edge.
4. Sand
5. Attach all three parts using the threaded rod and some adhesive.
6. Paint and Seal
7. Attach leather grip.
THE END IS NIGH! THE END IS NIGH!