Okay, this post is about something that we made for an Independence Day party, but I took the 4th off from blogging, and Friday is when I post about my projects, so the following is a little late in coming. It was very good, though, so I still wanted to share it.
My wife found these neat flavored lemonade recipes on this really cool blog called
A Beautiful Mess
. We almost made some of them for our son's Beatles themed birthday, but with all of the stuff we had to do we decided to save it for another day. So this past Fourth of July we were invited to a party and decided that this was the perfect opportunity to try Cucumber Mint Limeade.
In the original recipe they leave how you want to do the actual limeade up to you, but we figured, we're making this awesome drink recipe, we might as well start with fresh limeade. Limeade is pretty simple to make anyway, it's just three ingredients. We started by juicing six limes. I had only ever used those bowl juicers with the cone in the middle, so this hand press style was interesting to try. I feel like the bowl style juicers do a better job of collecting the juice than holding a press over a measuring cup, but I could have just used a container with a wider opening. The main benefit of this juicer is that you don't have to fish the seeds out of the juice.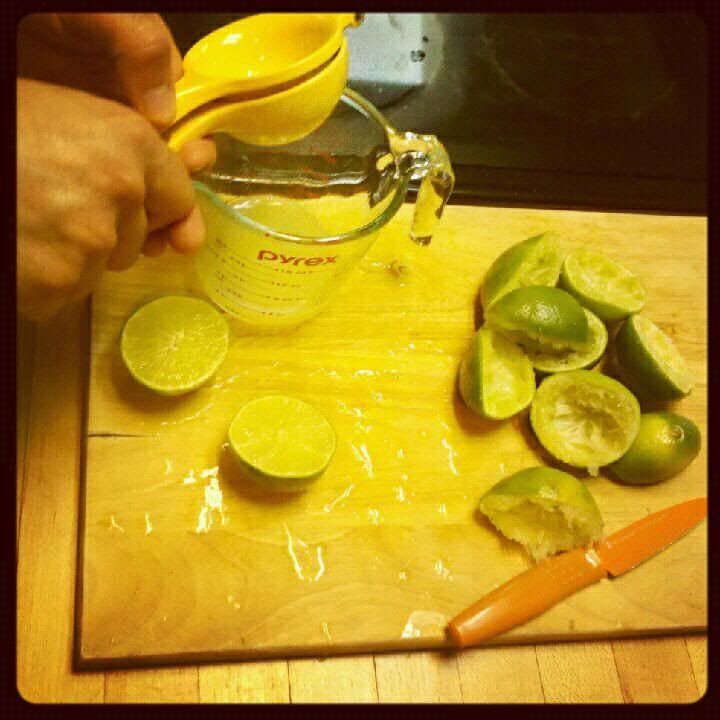 We mixed in 1 1/3 cup sugar and about 14 cups of cold water. I would recommend adding a little less water than you think you'll need and tasting it to see if it's a good flavor. The recipe that I looked up said to put more water than I put in, but I didn't want to completely lose the tartness.
Once you have your limeade made it's time to spice it up. Take a cucumber and slice it into thin slices and add it to the limeade. Our cucumber was a little big so I didn't end up using the whole thing. Next add about about a handful of chopped mint leaves.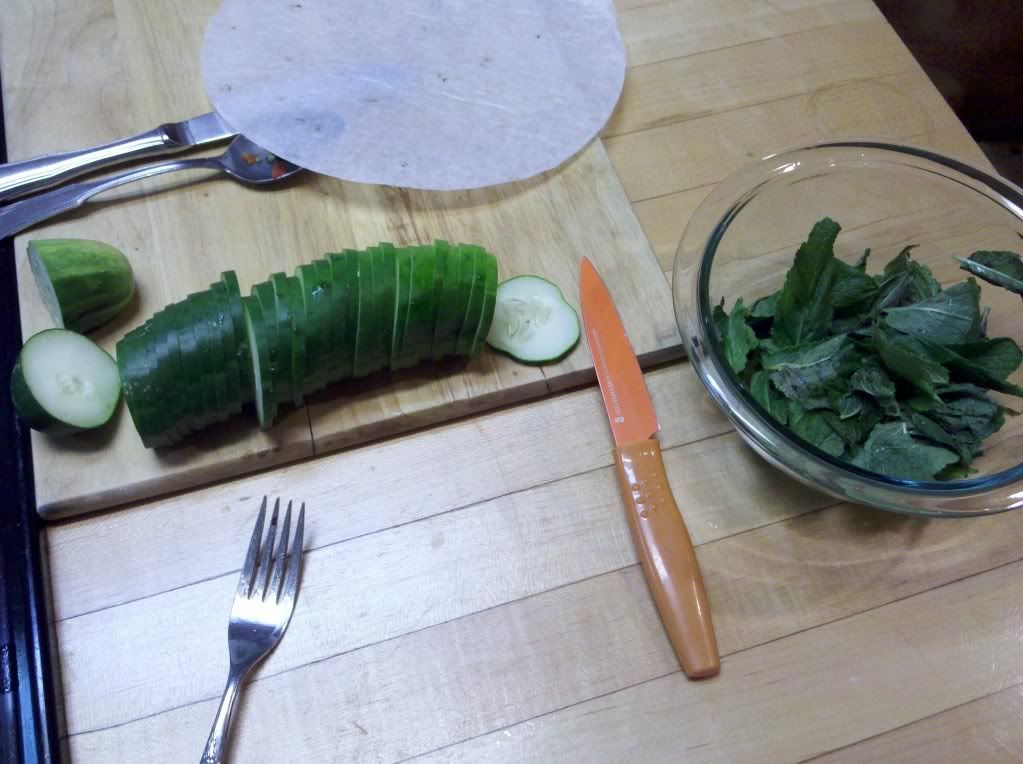 Your results should look something like this:
The longer you let it sit the more the flavors will infuse the limeade. We had some left over the next day and it was very flavorful. The presentation is best fresh, though, because the mint leaves start to discolor after a day, but it's still delicious.
If you want to see the original recipe you can find it
here
. Next we're going to try the Strawberry Basil Lemonade. I can't wait!